Founder, Barry Winfree was born and raised in the city of Detroit, in the Palmer Woods/Palmer Park area. Barry's restaurant career began as an expediter and line cook for a dual concept called Shanghai Shapiro, a unique combination of Chinese cuisine and kosher-style delicatessen in West Bloomfield, Michigan. During this time Barry learned a sense of urgency, quality presentation, and demand for excellent service.
Barry's first management opportunity came with the Epicurean Café located in the Penobscot Building in Detroit. Here, Barry learned large batch cooking, people management skills, and recipe development. After six years of performing every duty in the restaurant and implementing a full-service corporate catering program, Barry left to become an assistant manager with Boston Chicken (Market).
It was with Boston Chicken that Barry began to flourish learning team member development, multi-unit management, and new store opening procedures. Barry rose through the ranks very quickly and was promoted to a multi-unit manager within 18 months. Barry displayed a knack for streamlining management teams and developing team members into management positions. He grew into an opening specialist and was directly or partially responsible for over 40 new restaurant openings in the Detroit and Toledo, Ohio Markets. He also traveled regularly assisting other markets and franchisees with special manpower and operations projects management.
In 1998, Barry left Boston Market to form Cafes, Inc. with the owners of the Epicurean Café. Together they opened and managed four restaurants and a coffee shop. Cafes, Inc. also engaged in consulting agreements with several organizations including Focus: Hope providing food service program management and manpower training services.
What do customers say about Blue Star?

TripAdvisor Reviews
Yelp Reviews
Google Reviews
Facebook Reviews
Five years later, Barry sold his interest in Cafes, Inc. and started Team Way, Inc., a vending, concession, and catering Management Company. In 2007 Team Way added Blue Star Café and Catering as well as the Bean Bar Coffee and Smoothies, both located one block from the original Epicurean Café. Blue Star is a Cafeteria-style restaurant providing freshly prepared meals at breakfast and lunch to the business community and full-service corporate catering to many clients in the metropolitan Detroit area. Blue Star's client list includes Marathon Petroleum, Honigman, Deloitte, Plante Moran, and Ernst & Young to name a few.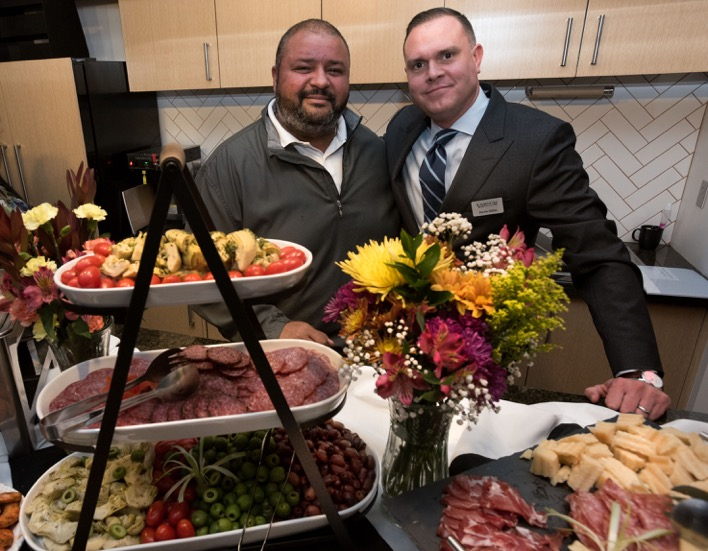 In 2009, Barry was recruited by PF Changs China Bistro to operate and manage the Michigan market for Pei Wei Asian Diner, a fast-casual Asian restaurant. As Managing Partner, Barry was responsible for seven restaurants including two new openings, 35 managers and supervisors, and over 250 employees. He was asked to assist several regional markets with operations and troubleshooting while still maintaining an active role in Team Way. In 2012, Barry sold his interest in Pei Wei back to PF Changs and returned to full-time duties with Blue Star and Team Way.