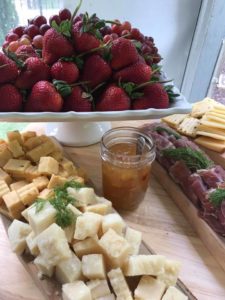 Blue Star Detroit Catering Menu
These catering menus are provided as a guideline for your party planning. They can be tailored and customized to suit your individual needs and the budget for your event. [ Download our full Catering Menu ]
A sample of who Blue Star Detroit has provided catered for:
-American Bridge Company-Preferred Caterer for the new Detroit-Windsor Bridge
-City of Detroit-Mayor's Office and Human Resources
-Children's Hospital of Michigan-All special Guests and Grand Rounds Speakers
-Community Foundation-Non Profit
-Daifuku Webb-Material Handling Systems
-Deloitte Services LLP-Accounting/Consulting
-Detroit Economic Growth Corporation Non-Profit
-Detroit Regional Chamber of Commerce
-Detroit-Windsor Tunnel
-Ernst & Young-Accounting/Consulting
-Honigman Detroit and Bloomfield Hills-Law Firm
-Marathon Petroleum Co. Refinery and Training Center-Preferred for Refinery/exclusive for Training Center
-Clark Hill PLLC
-MSX International-Collaborative Enterprise Services
-Plante Moran-Accounting/Consulting
-Catering, Vending, and Corporate Dining Management
-Police Officers Association of Michigan
-Quicken Loans
-Regional Transit Authority
-Ronald McDonald House Southeastern Michigan
-Skillman Foundation
-State of Michigan-Several Departments and Agencies Including DNR-Belle Isle Park and Outdoor Adventure Center
-Theodore Levin United States Courthouse-All special events and promotions
-Wayne County Third Judicial Court-Several Departments and Agencies
We are licensed and insured & we guarantee 100% satisfaction. Complete catering for any occasion. The possibilities are endless!
Transportation and Delivery Charges: There are no charges for delivery within a 10-mile radius. Additional charges may apply.
Leftover Food: We cannot handle or serve food that is not prepared in our licensed kitchen. If you wish to take leftover food, we will provide disposable containers for your convenience.
Set-Up: We will supply and cover the buffet table. We will provide heavy plastic plates, cups, knives, forks, spoons, and napkins.
Floral and Decorations: Our floral designer can create arrangements and décor to complement and accent your party at an additional charge.
Rental Charges: Rental charges will be based on each party's needs once a menu has been selected. Rental needs can include china, flatware, linens, tables, chairs, tents, and other necessary equipment.
Other Services: We also offer sit-down luncheons and dinners. If you are interested in this type of service, please give us a call.
Blue Star Corporate Catering can assist you in all aspects of party planning. Services provided are limitless. We will consider all requests.
Please download our menus below and contact us online or at (313) 222-5893